LATE NIGHT GALLERY HOURS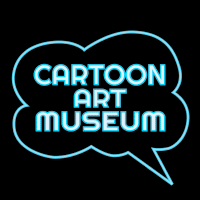 UPCOMING DATES:
May 16th from 5pm to 8pm (ArtRockX)
The Cartoon Art Museum and Art RockX! are bringing you "Expose your Super Power" Show. Come dressed as your favorite superhero or just bring that superpower you always wanted to possess.
Get Tix http://artrockxspower.eventbrite.com/
Hosted by Lyn Williams and DJ Lamont Young, this is guaranteed to be over the top.
Show sponsored by our friends from Robot City Brewing (you knew them as Last Exit Brewing) they have a variety of special brews brewing!!
SF VODKA is bringing their premium SF brand Vodka to liven up the show.
Three Bay area Celebrity Photographers: 
Robert Silver from GET LIVE
, Michael O'Donnell photographer to the SF Stars,
and .. to be announced.
The photo challenge is to capture the crowd in a series of poses and positions all around Superpowers and Superheroes. Art RockX! style, the photos are showcased at the show, and the audience votes on their favorite.
A Cat Woman Fashion Show, includes a line up of San Francisco's Loveliest dressed in a variety of Cat Woman Looks.
Tickets

$10 Early Bird General Admission (Limited Quantity) drink tickets available for sale at the party

$30 VIP ticket includes Specialty Beer, Liquor, and Wine unlimited
Order now http://artrockxspower.eventbrite.com/
The Museum's brand new Superman exhibit is our very fitting backdrop, and with the Superman movie coming in June 2013, a special prize for the best Superman.
TV cameras roll for this Art RockX! Show!!!!
---

Join the Cartoon Art Museum for Yerba Buena Third Thursdays, a monthly night out in a unique downtown San Francisco neighborhood that's rich with arts and culture. Come join us!
This event, which occurs throughout the year on the third Thursday of each month, involves galleries and museums extending their hours throughout the neighborhood to create a lively atmosphere of arts and interaction, as well as events with the YBCBD such as low-cost ticketed guest lectures, performances, and screenings.
The series is part of the YBCBD's mission to promote Yerba Buena as a vibrant place to live, work, and visit, and offers both locals and visitors more fun evening activities around the area!
Posted: May 1st, 2013 under Events, Past Events, Uncategorized.

Comments